Interlocking Event Mats for a Portable Arena
Horse Show Managers:
Are you looking for a new venue for your horse show or need additional show arenas for your show?
With the Interlocking Event Mats you have the flexibility to transform any venue or performance space quickly and effectively into a world-class horse show stadium.
The special footing mats are laid directly onto lawn, turf or concrete and protect the grass from getting ruined.  A nice layer of geotextile sand footing is added.  After your event, the mats can be easily removed and stored for your next show.  The interlocking event mats are designed for long- and short term use, are easily installed, the structured surface of the mat adds stability to the sand footing, removal with the tongue-and-groove system make them an excellent choice for temporary installation of show and event arena footings for indoors and outdoors.
Venues with Arena Event Mats for temporary riding arena footing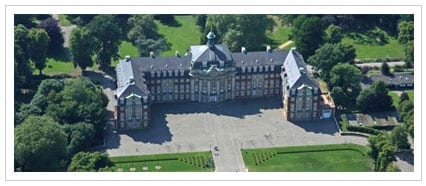 Each year in August, the beautiful park in front of the Muenster Castle, Germany is being converted into an international jumping and dressage venue.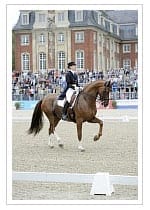 The interlocking event mats are laid down on the grass, then the pre-mixed geotextile arena footing is brought in. What a spectacular 'backdrop' for a horse show! This special venue is converted back to it's original park setting after one week of showing.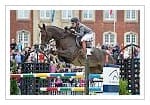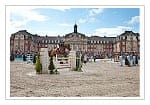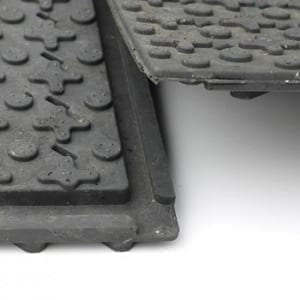 Price: $ 2.10 per square foot (minimums will apply)
The perfect horse arena footing is easily built from the ground up. Only 4 people can lay 800 m2 = 8,600 f2 in only 4 hours.
Event Mat Features
Interlocking system reduces chance of drifting
Perfect fit for weight, durability and ease of installation and removal
Used as permanent indoor arena base or short-term Show use, indoors and
outdoors
Provides a uniform surface
Built-in tread pattern improves traction
Sturdy but flexible to give elasticity and spring to the arena footing from the ground up
Shock-absorbing, thus reducing fatigue and protecting joints
Insulating value: Mats act as a natural insulator, keeps the cold in the ground
Good Drainage properties
All these attributes make the Event Mat our # 1 choice for indoor riding arenas and for Show Events where the removal of the base and arena footing can easily be done.
Technical Data
Length: 3.28 feet
Width: 2.78 feet
Height: 1.58 inches
Weight: 42 pounds
Drainage: 160 holes/mat
Coverage: 1 sq. yard interlocking composite mat system