References and Testimonials

Heard at Galway Downs: FSGeoTEX in the Grand Prix Arena
"One of the best footings I have experienced in my career, very nice jumps which allows to design modern and technical tracks, great atmosphere, fantastic food"
Course Designer Olaf Petersen, Jr.
"BEST JUMPER FOOTING In California! "
Francie Steinwedell
"WOW, where to start… Top class footing, great sport, delicious food, fun entertainment, nice people…"
Mandy Porter"The footing was fantastic with beautiful fences and great service. Can't wait to come back to the next horse shows."
Bjorn Ikast

"So thankful to have a super new show in southern CA. Footing is amazing!"
Michell Rodall
"Congratulations again on your footing in Temecula – Our horses love it. Thank you!"
Eddie Sepul
"We are very impressed; we love the main ring, the super footing and atmosphere. They are trying really hard to get everything just the way it should be. We are definitely coming back!"
Michelle Parker
"The footing was the best I've ever shown on!"
Susan Artes
---

Royal Dutch Veterinary Medical Association (KNMvD)
"The difference in spring and stability in the horse footing before and after installing FSGeoTEX is significant. It adds impressive and improved shock absorption of the arena footing, while we noticed an audible difference in the sound of the footfalls. We have to water far less than before due to the fiber addition. Riding on perfect arena surfaces is a major factor in avoiding leg injuries in horses. For our practice facility we can now work our rehab cases and our own horses in optimal conditions!"
Testimonial by Dr. Rob Van Wessum
Equine All Sports Medicine Center, Michigan
Diplomate of the American College of Veterinary Sports Medicine and Rehabilitation Board Certified Practitioner in Equine Medicine of the Royal Dutch Veterinary Medical Association (KNMvD)
---
From Florida to Hawaii, California to the Arctic Canada
Testimonials from satisfied customers across the continent:
"The mirrors are complete and PERFECT. I can only say positive things about you, Hilo, for the patience and attention that was offered to us. Hendrick and Jan were professional and the perfectionist that one would hope for in such an installation. They adjusted the mirrors over a couple of days. The clarity is amazing and it is distortion free. Everyone is so pleased."
Lori Wubker
Windsong Farms Equestrian Center
Apopka, Florida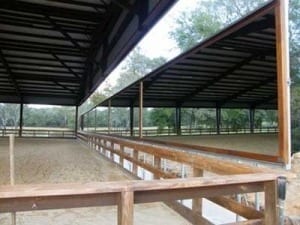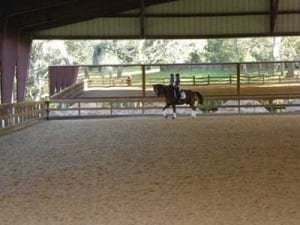 ---
"We just had a clinic up here with one of the top Dressage riders in the U.S., who was impressed with the quality of your mirrors. Having the mirrors with clear images was such a great training tool. The installation by our local contractor went really smoothly according to your installation instructions. The entire short side was up and mounted within one day!"
---
Just wanted to let you know that the FSGeoTEX fibers are all worked in and the arena is great…much more life to it. The horses are all very happy!"
Pamela Jones
Oahu, Hawaii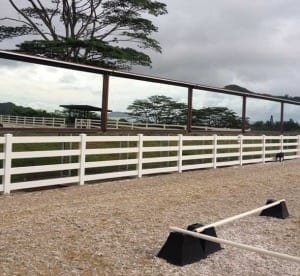 ---
"We are really happy with our new 16 foot mirror, here at possibly the world's northernmost dressage barn. In this challenging arctic environment, it provides a phenomenal training tool as there are few coaches who are brave enough to come to this remote, unhorsey location!
Amazingly, the mirror stays clear and does not fog up or ice up, although we have outside temperatures that dip lower than -40 in the winter! Our propane gas heated Cover All arena hardly warms up when it is so cold outside. I have tried other mirrors in the past with no success, and the aluminum laminate on the reverse side of this mirror seems to keep the image completely clear with no distortion."
Alexandra Hampson
Sundog Stables
Yellowknife, NT, CANADA
---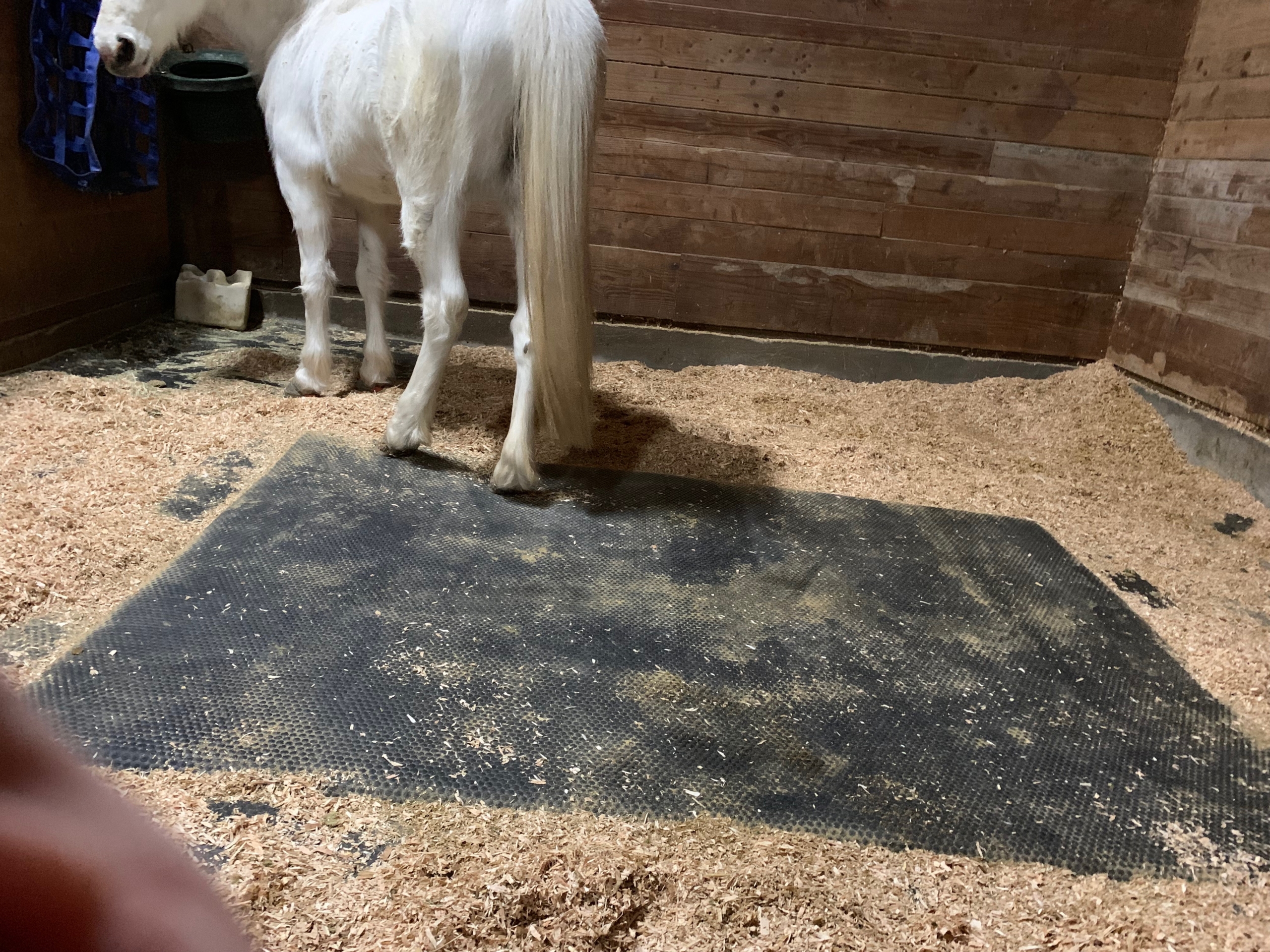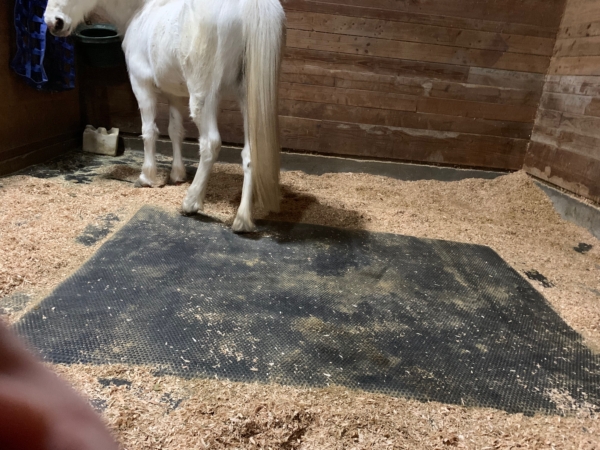 "The white pony in the picture is my daughter's old Welsh pony who has very severe laminitis so having the Softbed for her has been a life saver."
Margaret
Sienna Mountain Ranch
Petaluma, CA
---
The footing feels Super, already.  We are giving just a little more water today and then compacting.  Then… riding! Thank you so much! You sent us a great product!
Sarah
---
"New horse loves his SoftBed and was caught lying down in the middle of the day!
Other horses are jealous. Plan to order more in future. Thank you for such good service."
Betty M.
---
"I've been recommending your [Hydro Sandbinder] to everyone and have had many people come look and comment how dust free it is."
Janelle Briggs
Sylmar, CA
---
"I purchased two containers of Hydro Sandbinder and several pallets of [FSGeoTEX] from you and we are very happy with both products."
Nadine Schwartsman
Les Bois Dressage – Idaho
---
Nilforushan Equisport Events Uses Footing Solutions USA To Bring the Best to Temecula Valley
Temecula, Calif. – May 18, 2018 – Nilforushan Equisport Events is proud to work with Footing Solutions USA, a California-based company, to bring world-class arena footing to warm-up and competition rings during the three weeks of the Temecula Valley National Horse Show. Each riding space was constructed specifically with the horse in mind to allow for the perfect combination of spring, stability and safety, making for happy horses and athletes. Thanks to the passionate work of Footing Solutions USA, the footing in the rings received rave reviews during the first week of competition, and the same will surely be true for the concluding two weeks of the circuit, taking place at Galway Downs May 23 – 27 and May 30 – June 3, 2018.

"Working with Hilo Nick and Footing Solutions USA was a dream," said Ali Nilforushan, owner of Nilforushan Equisport Events. "We both shared the same vision of building arenas that were perfectly suited to the rigors of the show day, while ensuring that the health and wellbeing of the horses was of the utmost importance."
 With both a warm-up and competition arena to construct, Footing Solutions USA and Nilforushan Equisport Events worked together to concoct the best footing mixture for each specific ring and what its uses would be.

"Before we built the arenas, Ali Nilforushan and I talked a lot about the footing and how it should be for the horses. We thought about where the horses spend the most time, the warm-up arena, so that is a little bit softer, like a training arena at home, for the horses. When they go into the Grand Prix Arena, there is a bit more stability. I want the horse to have confidence to jump up, but the hoof needs to slide a bit into the footing when they land for the best shock absorption," said Hilo Nick, owner of Footing Solutions USA.
Building the Grand Prix Arena from the base up, Footing Solutions USA employed the use of selective sand at different gradations as well as multiple types of geotextiles to create the perfect ring for the Temecula Valley National Horse Show. Thick geotextiles allow for spring, while the stability of the rings can be controlled with regular watering. In the Grand Prix Arena, only once-a-day watering was needed thanks to the precision of Footing Solutions USA and the excellent on-site maintenance crew led by Arturo Dias, with the footing ultimately holding up beautifully for hundreds of horses throughout the week.
"I was amazed at how good the footing was and how nice the horses were jumping. They were flying high and there were hardly any rails down, that's how happy they were. I was so pleased because I built the arena for the horses. I don't want them to get hurt or worn out," commented Nick. "When I go back to Germany to visit, I take sand samples from top-rated horse shows there, I analyze it and come back to the United States and try to build the best. I wanted to recreate what we have in Germany here in California."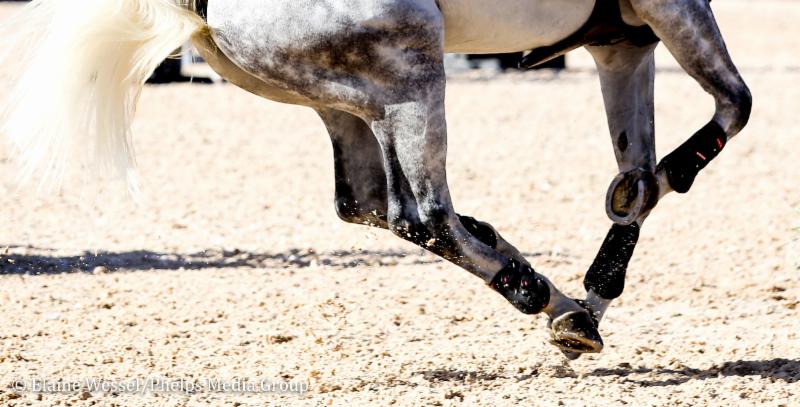 Managed by Nilforushan Equisport Events, the Temecula Valley National Horse Show series is already poised as a revolutionary Southern California horse show during its debut year, thanks in large part to the creative vision of its founders in addition to the generous support and expertise of industry experts such as Footing Solutions USA. The mission of Nilforushan Equisport Events is to produce world-class events for athletes, horses and spectators, making California a top horse show destination.