Footing Solutions USA Provides and Installs FSGeoTEX Arena Footing at Sun Meadows Equestrian in Kamloops, BC
A popular Kamloops equestrian centre has undergone a name change but
alterations are more than hide deep.
New owners Jutta and Glen Jealouse purchased the former Fieldstone
Equestrian Centre in August. Three months later, she hosted an open
house at the renamed Sun Meadows Equestrian Centre to show off her
investment.
The showpiece is the arena footing for two arenas, a silver sand material
comprised of pure silica sand along with Soiltex, a synthetic material
imported from Germany.
Together, Jealouse said the materials provide a no-compromise riding
experience.
"The important part is the horse arena footing," she said. "That's where you
train, compete, jump and do dressage. The FSGeoTEX horse arena footing will
compact without getting hard." Visually, the horse arena footing "looks like a
beach in Cuba.
"Everyone who rides on it is in love with it," says Jealouse.
Footing Solutions USA came to Kamloops to supervise the installation of
the FSGeoTEX arena footing – the original imported German Geo-Textile
footing.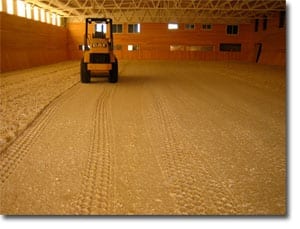 "The most important part of the perfect horse arena footing is the selection
of the correct sand material and the sieves" says Hilo Nick, owner of
Footing Solutions USA. "The silica sand we selected for Sun Meadows
exceeds the most recent FEI requirements for competition venue footing –
Using FSGeoTEX, a high-quality synthetic felt and fiber additive, we
created the perfect arena footing at Sun Meadows!"
Sun Meadows has two riding rings and plans to eventually add another
20-metre by 60-metre ring outside with FSGeoTEX horse arena footing in Spring
for horse shows. Jealouse said the overriding theme is to build quality and
a reputation. In turn, that will attract enthusiasts from across B.C. and
Alberta to expand on the local market.