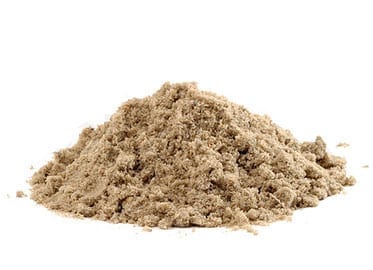 We offer free sand evaluation and recommendations. We have a network of sand quarries and suppliers that we work with throughout North America and will assist you with the correct sand selection. The perfect arena sand is the most important component in any arena footing. You have to have the right feeling for good sand and combine it with the technical and engineering aspects. Let us choose the sand for you!
Frequently Asked Questions (FAQ)
For Footing that's

Just Right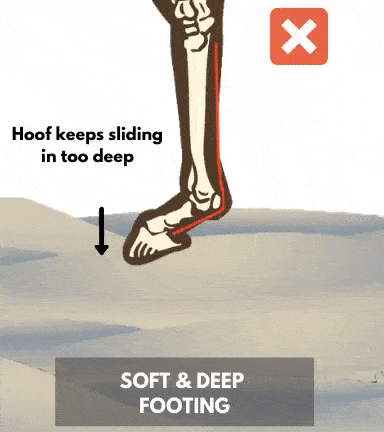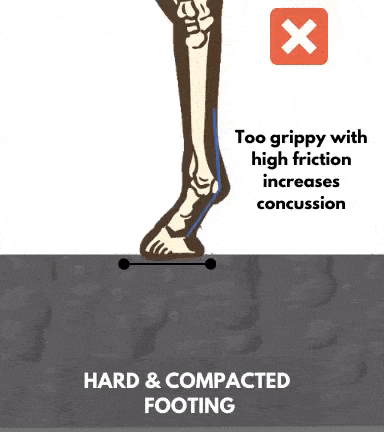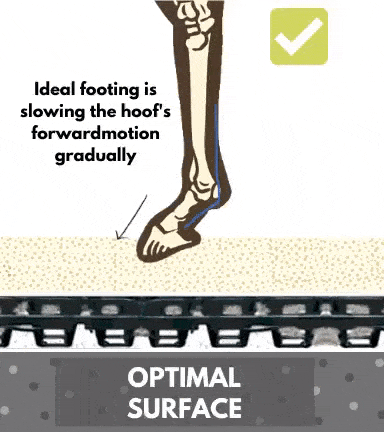 Upgrade your arena footing to World Class!
FSGeoTEX BLENDS – THE ORIGINAL GERMAN GEOTEXTILE FIBER ARENA FOOTING
FSGeoTEX geotextile synthetic sand additive footing consists of polyester needle felt and fibers. Once the specific desired blend is determined, it is precisely blended during the manufacturing process. Because of the textiles' quality, only a minimal amount is needed to improve the arena surface in new and existing jumping and dressage arenas.
FSGeoTEX is the sand additive of choice for top professional equestrians because it:
Adds spring to the arena footing, reducing concussion
Gives stability and consistency to the arena surface
Retains moisture and reduces dust
Contains NO post consumer/ recycled ingredients, so you and your horse can breath in fresh air

and not fibers from recycled carpet shreds

Lasts longer than competitors' alternatives (like

stiff, thin green textiles or carpet fibers)
The Perfect Balance of Elasticity and Stability
Our footing specialists carefully select the components of our geotextile fiber synthetic sand additives to balance out cushioning and stability to prevent over-compaction of the arena footing.
Stability You and Your Horse Can Rely On
Our synthetic sand additives add sheer strength and spring to provide a solid landing with each footfall, reducing the risk of jarring and repetitive injuries.
The Impact-Absorbing Effect of FSGeoTEX
The thickness and softness of FSGeoTEX fibers allow for a reduced hoof-to-ground interaction to minimize concussive force. Stress on the lower limbs and hocks is reduced to benefit horse performance and soundness.
Environmental Health Benefits
Environmental Health Benefits
You can use our geotextile sand additives to enhance the qualities of your existing or new equestrian arena. Environmental health benefits include:
Stabilizes sand and Retains Water
Reduces Dust and improves air quality
NOT a post consumer /recycled product
Easy DIY Installation
With warehouses near Atlanta GA and Los Angeles, we conveniently ship to your barn directly. The product comes in securely wrapped bales and then shipped on standard pallets. We only use trucking companies which can also service residential areas with a lift gate service for easy unloading. Spreading and tilling of the geotextiles can easily be done by DIY installation.
"The arena footing feels Super, already.  We are giving just a little more water today and then compacting.  Then… riding!
Thank you so much!
You sent us a great product!Thanks again! "
"One of the best arena footings I have experienced in my career, very nice jumps which allows to design modern and technical tracks, great atmosphere, fantastic food. "
Nilforushan Equisport Events, Temecula Valley National Horse Show @ Galway Downs "BEST JUMPER FOOTING In California! "
"WOW, where to start… World-class arena footing, great sport, delicious food, fun entertainment, nice people…."
"The arena footing was fantastic with beautiful fences and great service. Can't wait to come back to the next horse shows"
"So thankful to have a super new show in southern CA. Jumping Footing is amazing!"
"Congratulation again on your Arena footing in Temecula – Our horses love it. Thank you!"
"We are very impressed; we love the main ring, the super arena surfaces and atmosphere. They are trying really hard to get everything just the way it should be. We are definitely coming back!"
"The arena footing was the best I've ever shown on!"