The Treading Pool for Horses sold by Kraft Horse Walkers
Horse Wellness produces the patented Water Horse Walker, System Voncini. Due to its design as well as the technical and structural characteristics, this aqua trainer provides many physical and therapeutic benefits for your horses.
Horses do not swim, but tread water and move freely within the corridor with the added benefit of being able to change directions.
The computerized control panel allows one to program the rhythm of the pace and reverse directions at preset intervals.
An automatic safety device stops the rotation of the horse treadmill if the need arises.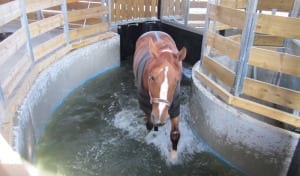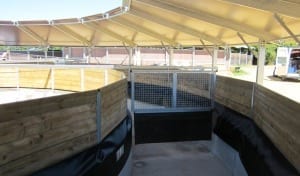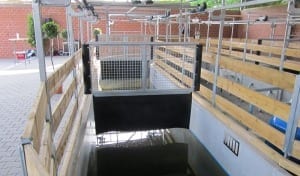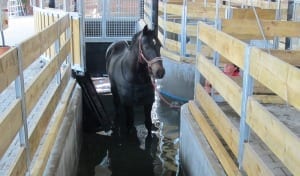 Round walker with tread pool in Italy
With this horse aqua trainer, the water is kept constantly and hygienically clean by a powerful filtration system that purifies the water using chlorine or electrolysis of salt water. The efficiency of this system saves both money and time.
The Water Walker can also be used during the winter months with proper covering and a heating system for both water and air.
The system can be equipped with a hydro-massage device with 24 jets; a current generating device that produces more resistance which in turn results in better toning of the muscles; as well as a water heating/cooling system which keeps the temperature constant during all seasons.
Optional features provide a total personalization of the entire project that can be built according to our client's needs and wishes.
Our Water Walker is completely pre-fabricated and thus reduces installation costs and time (approximately 15 days for the entire installation).
The water technolgy is developed, designed and patented by Voncini/Italy:
System Voncini + Kraft together forming a strong partnership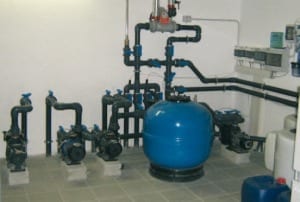 Water Horse Walker – One for All!
The Advantages of our Water Horse Walker
stress free and relaxing exercise in a pool
horses do not feel cramped in
an environment that makes it easy for the horse to move about
naturally challenging exercise
horses are delighted and joyfully tread water
easy entry and exit into the water walker
a horse can choose its posture freely
many horses can be exercised at the same time
patented rubber separation gates
water levels can be selected depending on training applications
water jets can be added
counter current system can be applied
potable sweet or salt water can be used
patented filtration system
water temperature can be selected
energy saving
turn-key offers for oval 10x20m (33'x66′) as well as round 15m Ø (49′) horse walkers
quick installation and start up due to prefabricated components
high quality materials
cooperation of two companies that are experts in their relative fields
Applications
acute injuries
rehabilitation of injuries
gentle mobilization
injury prevention
Therapists have the following choices depending on diagnosis and therapy application
salt or sweet water
temperature
water level
Aqua Therapy
acts as an anti-inflammatory
improves circulation
guards against leg injuries
relieves up to 60% of body weight depending on water levels
relieves body tension
relaxes the entire muscular system
Relieves tension and relaxes
after strenuous tests or races
after strenuous training
young horses during their riding training
during training breaks
Horses that are relaxed and not tense are the best premise for good and successful cooperation between horse and rider!