Say goodbye to bedding woes!
With SoftBed Comfort mats, now you can easily provide your horse with enhanced protection and cleanliness inside your barn, and even in paddocks. These horse stall mattresses offer just the right balance between softness and stability for the horse to stand on. And, they are easy to lay down without any installation.
SoftBed Comfort padded horse stall mattresses:
Provide joint support and overall musculoskeletal wellbeing
Prevent hock sores and wind puffs
Are used in clinics treating founder and laminitis
Deliver comfort and quality rest
Create a healthier living environment
"The white pony in the picture is my daughter's old Welsh pony who has very severe laminitis so having the Softbed for her has been a life saver."
"New horse loves his SoftBed and was caught lying down in the middle of the day!
Other horses are jealous. Plan to order more in future. Thank you for such good service."
Therapeutic Benefits
With use of SoftBed Comfort mats, owners of performance horses report that hock sores are gone within days and wind puffs are greatly reduced. They cause less strain on hips, decrease stifle and hock scuffing, and ease the pain of horses with chronic laminitis.
Very soft and therapeutic, these padded horse stall mattresses encourage horses to lie down and are even used at equine podiatry centers.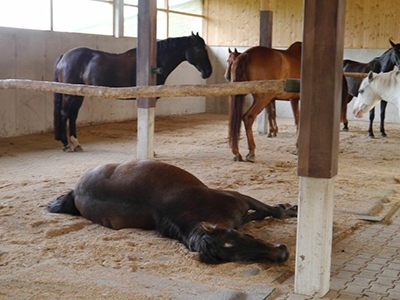 Easier Cleaning and Improved Environmental Health
The soft, flexible surface of SoftBed Comfort mats provides your horse with a durable and comfortable bed, equivalent to 4-6 inches of shavings. They greatly improve your horse's well-being and reduces the amount of bedding material needed, making mucking out stalls easier.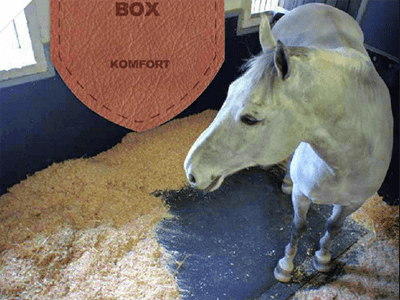 You can also cover the SoftBed with some shavings, then easily remove the few wet shavings daily. Unlike regular a stall mattress, the material of the SoftBed does not absorb any bacteria from urine and will remain clean and odorless—it does not take on a urine ammonia smell like most common rubber mats.
Environmental health benefits of SoftBed Comfort mats include:
Less waste, making for less time cleaning
Prevention of urine pits, holes, and bacteria build-up
Improved air quality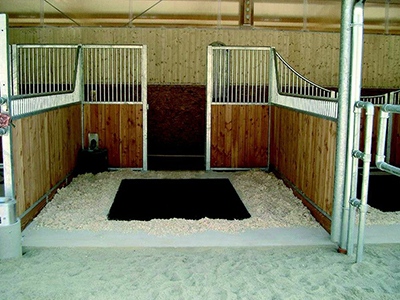 No Installation Process
Simply place the SoftBed on the stable floor. A small amount of shavings can be used around it to encourage and provide a urinating spot for the horse. This, way the middle of the stall stays dry and clean. You only need one SoftBed per 12 x 12′ or 12 x 14′ stall to make your horse happy and your work easier.
Additionally, SoftBed Comfort mats:
Do not shift or move, unless you want them to
Insulate from the cold ground
Ultimate Durability
The SoftBeds are 6 feet x 8 feet and weigh 220 lbs., which is heavy enough to prevent the horse from moving it. They contain a core of 1.5 inches of foam, which is completely protected by two rubber mats that have a slightly textured surface to prevent slipping. The rubber matting is sealed around the edges using a vulcanizing process, so that no moisture can penetrate it.