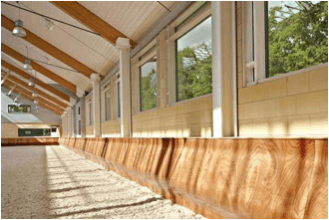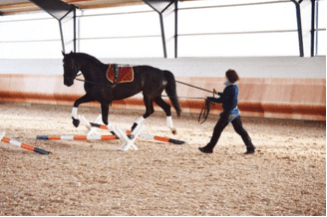 OPTIMIZING YOUR BARN WITH A BEAUTIFUL AND SAFE ARENA KICK WALL
As horse owners, safety is always at the forefront of our minds. We carefully choose feed, equipment, trailers, exercise regimens, and every small detail to keep our horses safe, healthy, and performing their best.
Designing a horse arena should be no different. Though a controlled environment like an indoor or covered arena is often thought of as the safest place to ride, even highly trained horses and riders can become injured from a simple, misplaced footstep.
While much focus goes to the construction, ventilation, and arena footing, an arena kick wall is also an imperative safety feature to include in your indoor or covered arena design. The kick wall lines the riding surface and keeps a proper space between a horse and the wall. This prevents injuries to both horse and rider, and damage to the structure.
European Design
Our horse arena kick wall features a curved design and is made out of high-quality wood to optimize safety. Originally developed in Germany, the curved arena kick wall has been a longtime staple in Europe due to its success.
Because of its shape, our kick wall keeps the horse at the perfect distance. With a regular kick wall, as a horse goes deep into a corner or turns down the diagonal, many times it will paddle out with the hoof and hit the wall. This cannot happen with a curved arena kick wall. The curved design also prevents contact with the wall and potential injuries for the rider.
Often used in boat building, the arena kick wall is constructed with seven layers of extremely durable poplar wood. Finished with two outer layers of Okoume wood, it is weather-resistant and provides excellent shock absorption.
Safety Meets Style
Your riding space must be functional and safe first and foremost, but, you'll want it to be aesthetically pleasing as well. Our curved kick walls offer a luxurious, modern upgrade to any indoor or covered arena in both aspects.
A Footing Solutions USA kick wall can be fully customized to fit your needs and desires. You can have a natural wood look or stain it in any color you'd like for a more finished look. You can also choose the width and whether the doors slide or swing. And, you can utilize the functionality of the wall by store jumping poles within them to keep your arena polished.
Give Your Existing Structure a Facelift with a Kick Wall

If you're not in the market to construct a new building, our kick walls can be added a current structure. This will improve both safety and style. The arena kick walls are constructed in panels for ease of installation. Therefore, they can fit an arena almost any size and shape, new or existing. And, because of their paneled composition and quick installation, our arena kick walls are similar in pricing to other types of kick walls.
With high-quality, weather-resistant construction designed to keep a horse at a perfect distance, aesthetic appeal, and simple installation, a curved arena kick wall is not only an important safety measure in your indoor or covered arena, but it is also a safe investment.
Contact us to learn more!