Putting footing first is an important step to keep your horse sound and prevent repetitive injuries. Why? Because science data has shown that at a normal gallop, a 1,200-pound horse impacts the ground with an impressive 1,400 pounds per square inch. Because of this force, it is imperative to create an optimal and premium riding surface for your horse, which will in turn help protect the horse. Everything from your horse arena sand to your additives play an important role.
So, what are the key properties of a quality arena surface?
The key arena properties are:
Cushion and traction – good horse arena footing provides good cushion and traction to decrease bone stress on the horses' legs.
Rebound – arena Footing that rebounds provides spring to the horse and rider (yes, you will feel it too!)
Uniformity – the arena footing should be uniform, meaning it should be level and evenly watered. Uneven watering disturbs the uniformity of the arena footing.
Which type of sand should I use in my horse arena?
After you built a proper arena base (refer to our Arena Base 101 article), the correct sand is your #1 ingredient for a premier footing. You might be lucky to have a local sand quarry close by which can provide the ideal sand. A sub-angular, FINE silica sand or a high percentage of quartz will improve drainage and longevity. Always ask an established arena footing company for best advice which sand to use in your area.
What if I cannot find the ideal sand in my area and I am on a budget?
Footing SolutionsUSA offers the perfect footing solutions for improving coarser and less-than-ideal arena sands like concrete sands or washed plaster sands, which are manufactured sands and are sub-optimal options for riding arenas. We offer a variety of textile footing additives to complement this type of sand in your horse arena.
What is the footing solution for concrete and washed plaster sand?
While we do not recommend using concrete or washed plaster sands as arena sand, these are widely available and affordable when you're on a budget. Fiber horse arena footing like FiberCloud is a simple way to improve your current arena footing or new arena sand when you use concrete or washed plaster sands. FiberCloud — our sand stabilizer which is a fibers-only sand additive by itself with no textiles — stabilizes construction and concrete sands increasing the performance of an arena.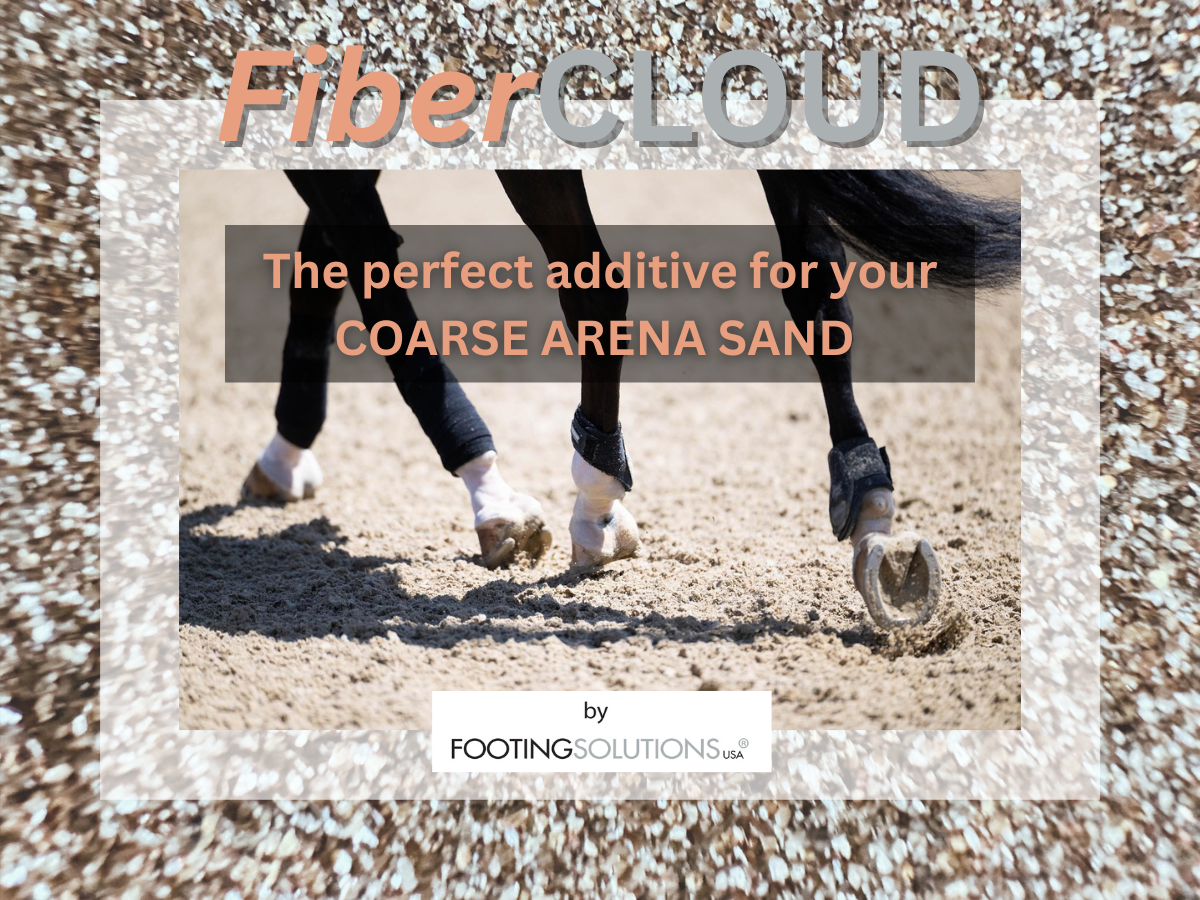 Key Properties of FiberCloud Synthetic Arena Footing:
FiberCloud is a mixture of fibrous white Dralon fibers (a non-allergic fiber) and acrylic synthetic fibers. This:
Stabilizes coarser arena sands
Adds cushion to the arena sand
Helps with moisture retention
You can also learn more about our other synthetic textile footing products here.